is a Ford Certified Electric Vehicle dealer.
We are proud to offer Ford's complete line-up of Hybrid and Electric Vehicles.
Fusion Hybrid
The Fusion Hybrid maximizes performance. At lower speeds, it can travel in electric mode. When the gas engine does kick in, at higher speeds or when passing or merging, the transition is seamless. The Fusion Hybrid also features

visual aids to help you drive more efficiently. The SmartGauge® with EcoGuide cluster uses dual liquid crystal display (LCD) screens on either side of the center-mounted speedometer. Watch the display grow leaves as your short-term driving efficiency increases. As your long-term driving becomes more efficient, vines and more leaves are displayed. It also lets you track the powertrain's operation - hybrid drive, electric drive, gas engine plus instant and average fuel economy.
Mach E
Built from all the passion of its iconic heritage, Mustang Mach-E is the new shape of freedom. Get ready for 0-60 thrills, expansive range, zero vehicle emissions and more from the 2021 North American Utility Vehicle of the Year.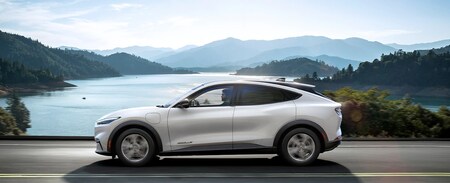 Available eAWD (electric all-wheel drive) delivers exceptional performance and handling. Front and rear motors distribute power independently to each axle, which can provide impressive acceleration and help you take on snowy roads.  Exhilaration is better when it's shared. An impressive SUV interior with plenty of head room and leg room means everyone will love the ride. Feel free to go the extra mile on your road trip. With an EPA-estimated range of 300 miles on the Mustang Mach-E Premium with extended-range battery and rear-wheel drive and access to the largest public charging network nothing's holding you back. It's as simple as mapping your trip and finding chargers along the way.
Fusion Energi (Plug-In Hybrid)
The Fusion Energi is designed to be efficient, thanks to combining a high-voltage battery and electric motor with a gasoline engine. The high-voltage lithium-ion battery pack

provides enough power to operate in all-electric mode for short commutes. Thanks to plug-in capability, you can charge the battery using a 120-volt outlet. Or you can use a 240-volt outlet, upgraded with electric vehicle supply equipment. When the battery is depleted or more power is required, the vehicle functions as a traditional gas-electric hybrid. The Fusion Energi also features a Regenerative Braking System, allowing it to capture kinetic braking energy and store it for later use.